Save When You Send
The fastest and cheapest way to send money to friends or loved ones.

SMS Updates
After your transaction you will receive a text message with your receipt to track your transaction. A text message is sent once your money arrives.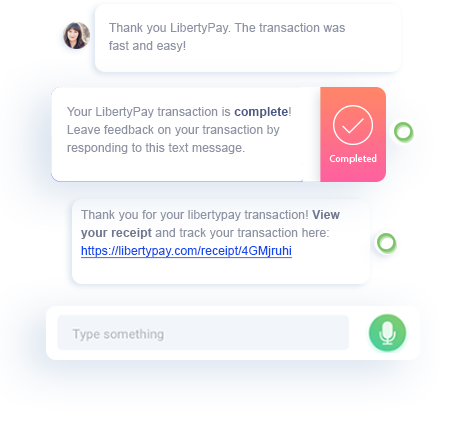 Supported Countries
LibertyPay currently allows you to send to friends and family in Brazil and Mexico.












What People Are Saying
A Libertypay e minha favorita, devido a grande facilidade que tenho para trabalhar com está companhia. Fácil acesso para falarmos quando necessário ajuda, paga pontualmente, me dá melhor profit, comparando com as demais.  Os funcionários são bastante educados e cordial.

Cirlene
Store Owner - Somerville, MA
My first LibertyPay transaction I got a call from my family back home that the money arrived before I left the store!

Maria J.
Customer - Boston, MA
LibertyPay added a new revenue stream for my store, but the amount of new foot traffic I receive is incredible

Vagmar S
Store Owner - Plymouth, MA